Gale
Who says you can't beat anxiety!!!
'I can't recommend Greg enough. I was a really anxious driver when I started out, but I had nothing to worry about with Greg teaching me; he's seemingly endlessly patient, considerate, and adaptable. I was always allowed to take things at my own pace, and he was always open to altering his lessons in all sorts of unconventional ways to make them perfect for me. I honestly believe I never would have made it so far without Greg's help – he's got a rare gift for connecting with people and a genuine passion for his work, which made me feel like I didn't just have a teacher sitting in the passenger seat beside me, but a friend. If anyone has any doubts or fears about driving, this is the guy to go with.'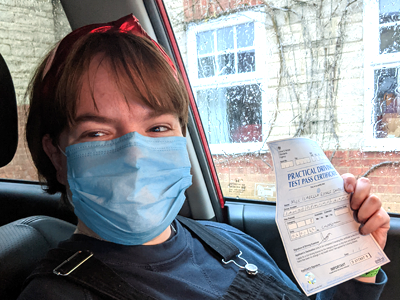 Isabella
Done it, just before going to uni too!
Greg is a wonderful driving instructor. He's patient and has an excellent sense of humour. Thank you.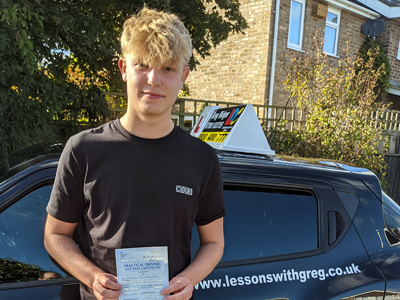 Joe
First time pass, just like his brother!
I really liked how Greg gave me the choice on what to do every lesson and never rushed me into anything, I also liked how he gave feedback on pretty much everything which allowed me to work on things I wasn't as good at rather than the stuff I could do.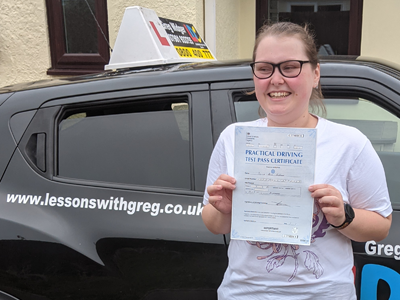 Jess
She didn't believe she could do it!
Where do I start? Well, first of all, 10/10 do recommend LDC and especially Greg. 👍 I can not sing his praises enough, for one, if he can get a nervous driver like me to pass he's clearly good at what he does. Always on time, always makes the lessons fun (even the scary ones), and I always come away from them feeling like I've learned something or improved where I needed to. I'm actually genuinely sad I've passed now because it means I no longer get to have the lessons I've greatly enjoyed, but guess what? That just means whatever new student that gets to take my place will have the exact same great experience I had, and you get to pass your test! Genuinely thank you so much Greg 😁 If you're thinking about joining with LDC do it! You won't regret it.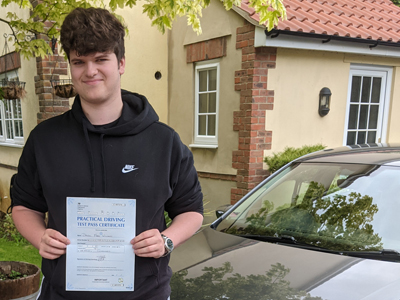 Dan
First time pass, zero minors and one leg!
I managed to pass my driving test first time with 0 faults and only 5 lessons (10hrs)! I began my driving lessons as a very nervous driver due to the many challenges I faced, because of my amputation (Dan lost his right leg at the thigh to cancer) I felt as if no one would be able to teach me but Greg took me on board and gave me the opportunity and the confidence to pass my test in record time.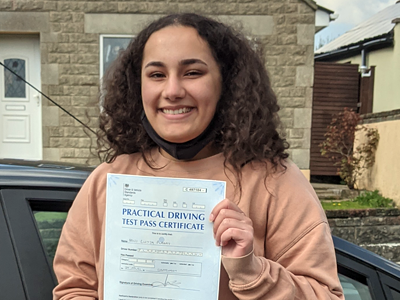 Zizi
Passed first time after a long Covid wait!
I learned how to drive with Greg and managed to pass on my first time! He helped me to build my confidence on the roads and all lessons were catered to what I wanted to learn on the day. Greg has been so supportive and patient with me, all my lessons have been great value. I would recommend Greg to anyone who wants some extra practice in driving, learning with him is definitely worth it!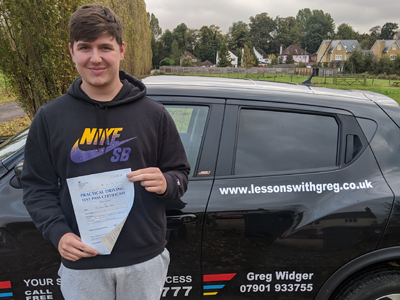 Chris
Another long wait caused by Covid over!
Learning how to drive with Greg has been great, he is a friendly, caring guy, and his way of making you think for yourself, rather than being told how to do everything exactly really helped me learn how to drive. Would really recommend him!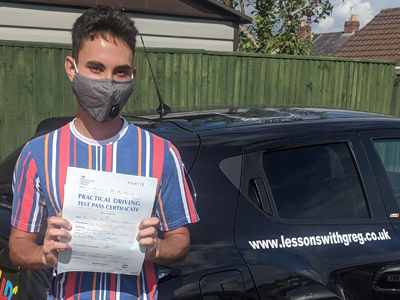 Joel
Passed after a long Covid wait!
Greg is an affable instructor who is willing to change his teaching style for each student. He helped me pass my driving test despite the difficulties caused by covid 19.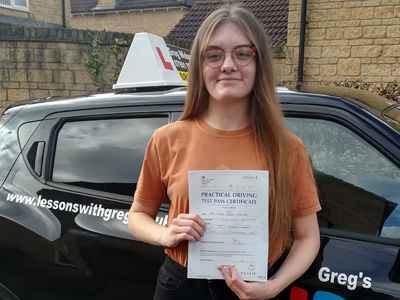 Abbie
Well done Abbie
Thoroughly enjoyed learning to drive with Greg! I would highly recommended him to anyone wanting to learn how to drive.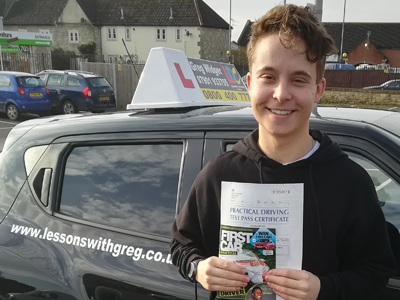 Callum
First time pass!
Greg's lessons helped me to gain the confidence, skill and wherewithal to pass my test first time. He was supportive and encouraging making the lessons not only informative but enjoyable.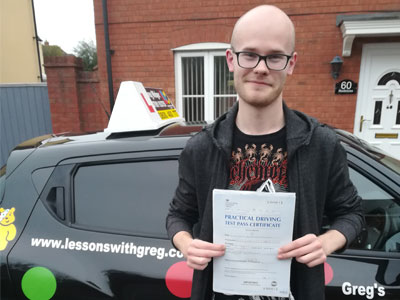 Matt
Passed my test!
Greg is an incredibly patient and easygoing driving instructor, he's very easy to get along with and to talk to as well. He explains everything throughout his lessons in a way that is easy to understand yet thorough and in depth at the same time. I have had a fantastic time learning to drive with Greg and I would most certainly recommend him to any other learners out there!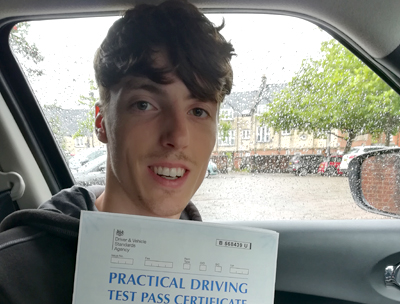 Dan
First time pass!
First time pass! Greg puts you in control of your lessons which ensures you get the most out of every lesson and target the most important things to you. His guidance is always useful and makes for an efficient style of teaching. I would highly recommend!
Dan
First time pass!
First time pass! Greg has been an amazing driving instructor, he was very kind and calm and helped me to be more confident. He was great at explaining ways I could improve and was flexible with the lesson plans which allowed me to focus on areas I personally felt needed more work. Thank you :) Thank you again for all your help, I had a great time!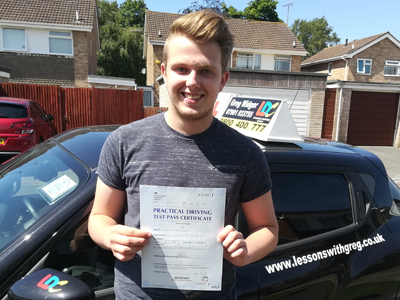 Alfie
First time pass!
Greg has been a great driving instructor and has helped me throughout my learning experience. He was dedicated and was happy to answer any of my questions along the way.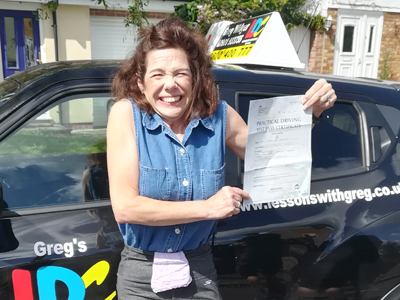 Mary
Seriously happy!
What an awesome experience! We were so thrilled with LDC and with Greg Widger in particular. Greg is kind, calm and reassuring, while always in total control. His gentle but 100% steadfast nature instills such confidence in even the most nervous student. Greg, and from what I understand LDC generally, have a refreshing approach to teaching, which hands responsibility to the student to think and arrive at the solutions to road situations, thus effectively eliminating the instructor and training drivers who are competent from the moment they pass the test – or rather, comfortably beforehand. We are still touched by the kindness, and superb tuition, which Greg gave my wife. He was flexible and accommodating, devised an ideal schedule of lessons according to her needs and circumstances, and left her with the competence and confidence to pass her practical test comfortably and remain a safer driver thereafter. We would recommend LDC, and Greg especially, in a heartbeat. Amazing instructor, and truly wonderful person generally. I would not hesitate to entrust my teenager or other loved one into his hands.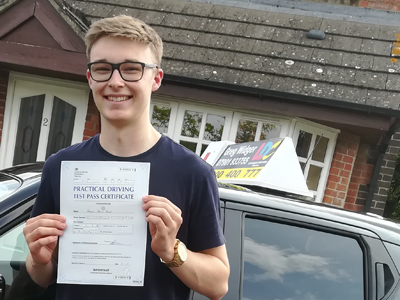 Sam
Passed my test!
Passed my test! Greg has been an amazing driving instructor. His more alternative teaching strategy where he allows you to teach yourself (the LD system) has been very effective when learning to drive!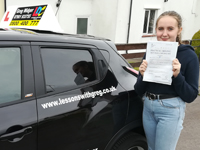 Codey
First time pass, ZERO minors!
I couldn't have wished for a better person to learn to drive with. His patience and willingness to let me go at my own pace made the learning experience much more enjoyable and less stressful. I would highly recommend Greg to anyone who is interested in learning to drive. Although I will miss our lessons every week, I wish him all best for the future!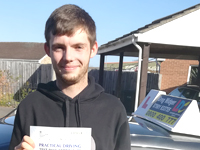 Luke
First time pass!
I've really enjoyed learning to drive with Greg. He was very patient with me and let me do things at my pace. He always explained things very clearly and I left every lesson feeling really confident. Would definitely recommend him!
Jon
First time pass!
Learning to drive with Greg has been an absolute pleasure, Greg is a fantastic instructor with a great sense of humor and makes you feel comfortable and in control in all situations. I couldn't recommend him highly enough.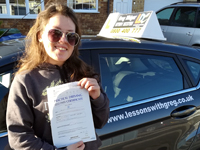 Brigit
I knew you could do it!
My lessons with Greg were fun and tailored to suit the way I learn as someone who gets nervous under pressure and got something new out of every lesson. Couldn't recommend enough!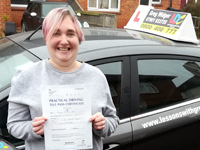 Kathryn
Confidence restored!
Greg is very patient and understanding of his students making your lessons fun and practical and helping you to learn the skills you need to pass your test.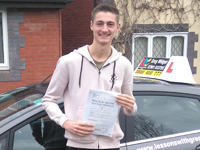 Aidan
First time pass!
An outstanding driving instructor with masses of experience under his belt! Greg has the skills for everyone, no matter what your ability is. He was so good that I even passed first time! His sense of humour is brilliant and by having things in common it just made every lesson relaxed as well as having great confidence. Greg and I were also involved in a charity event (the Big Learner Relay for Children in Need) driving hundreds of miles which only widened my driving experience which I am very grateful for! Greg also put in the effort to book my driving test for me which shows how much of a dedicated driving instructor he really is! Thanks for everything Greg, absolute top guy! Highly recommend to everyone!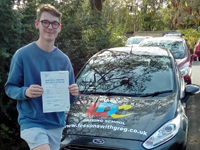 Josh
Awesome drive!
Five stars all around, brilliant instructor with a sense of humour and a calm approach to anything. Would highly recommend Greg to anyone with any ability. Top gent.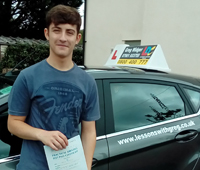 Jacob
Passed first time!
Absolutely brilliant. teaching is tailored to how you are feeling and what you want to do. Definitely would recommend to everyone.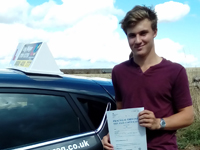 Luke
Passed first time miles from home:-)
Not a local to the Wiltshire area but that turned out to be an irrelevant factor, thanks to the expertise of Greg. A positively relaxed and experienced HGV driver with good driving instructor experience under his belt. If you're based in the Chippenham/Calne area (and possibly happen to hold an interest in motorbikes) and looking to pass your driving test, with the assurance that you can not only pass but also do so safely, then ladies and gentlemen, this is your man. Once again thanks a lot Greg.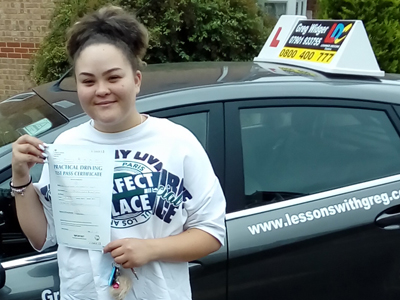 Katherine
Thank-you so much for everything
Firstly, learning to drive has been one of the most exciting, fun yet frustrating things I have ever done! And honestly, without Greg, I wouldn't have gained the confidence or have had the persistence necessary to pass! The great idea behind the LDC system is that you can plan your own lessons using the book and DVD resources to assist you, which has been fabulous as it means that I could cram as much into a lesson as I felt I was able to do and plan them based on how I was feeling that day (whether good or bad). Not only was Greg punctual for EVERY lesson, but his car is squeaky clean and was an absolute dream to learn in. And, yes I had my 'off' days… but Greg never gave up on me (no matter how many times I wanted to do a bay park and now I finally have my independence! Thank-you so much for everything.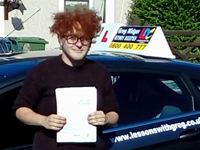 Lewis
Passed first time!
My experience with you has been brilliant, I couldn't have asked for a better Instructor. Your teaching methods have been astonishing, giving me clear view and instruction on what to do. You're a good man with a calm, respectful and funny personality. I've enjoyed the time I've had with you. Thank you for your time and giving me everything I need to become a safe and confident road user. Thank you Greg.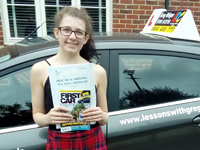 Korah
Nerves beaten!
Before I started learning with Greg I doubted I could pass my test - the test conditions had changed and I had failed previously. However in a few short weeks I gained the knowledge I needed to pass and stay safe on the road. I also managed to combat my bad habits. Thanks again Greg for helping me pass.
Wandi
We did it!!
My lessons with Greg were really fun and relaxing. I hate when people start shouting/screaming so before my first lesson with Greg, I told myself if my instructor started to shout at me while teaching me, I would quit and find another instructor. But Greg was always patient and calm while I was the one who made all the funny noises when I scared myself. LOL. More importantly, we were safe all the time. I think I probably am one of the most memorable/unlucky students Greg has had, as in during my lessons we always encountered some "unusual/exciting road circumstances" ( Cars coming towards us on the wrong side of the road etc. Greg). But whenever I didn't use my brake pedal, Greg always used his in time. I didn't pass first time because I made one silly mistake :P (Find out more stories about those tests, please book a lesson with Greg XD) Greg was really helpful all the time. Helped me to find my problems and fix them. Also moved around his busy schedule to fit my tests in, picked me up at 7am, sometime on Saturday. Really really nice person! PS. Greg is obsessed with car washing. I think he washes it too often. But you can't complain too much while sitting in a super clean car, can you? So if you are looking for a driving instructor who is fun, calm, caring, experienced, and always on time with a shiny car, contact Greg! ASAP! (I have seen Greg's timetable, it is really full!).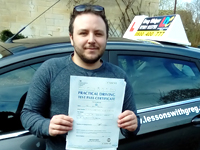 Frank
I didn't think I could do it at first but Greg got me driving and now it's great. He's a nice friendly guy and very easy to get along with. I'd highly recommend him.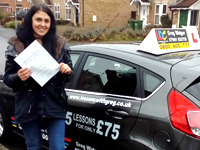 Karen
We did it at last!!
After failing my test 4 times with my previous instructor I found Greg, he went above and beyond to help me with my exam nerves which was my main issue. He was friendly and relaxed throughout our lessons and had so much confidence in me which helped so much. I don't think I would have passed if it hadn't been for Greg, so thank you so much. I am so happy to finally be driving. Karen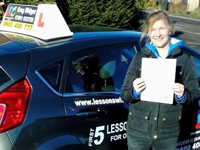 Josie Cerretelli
Second time lucky!
I would like to say a big thank you to Greg from LDC for helping me through my test, having passed today with 4 minors. Such a positive, friendly (and laid back!) instructor who gave up two of his Saturdays to fit me in, having previously failed a couple weeks back with a few silly mistakes. Thank you for helping me out at such short notice (as my previous instructor recently retired) and giving me the encouragement to see me through and pass. I could not praise him enough, very easy to talk to and gives you the confidence you need, if anyone is looking for an instructor, I highly recommend Greg!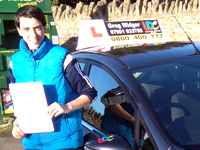 Heidi Westall
Passed first time!
Greg is the most patient and caring instructor I went with. After searching for ages I decided that this was the instructor for me. I had fun whilst learning and the fact that I could plan my own lessons to suit the way that I learnt meant that I could learn a lot faster and in a safe way. Greg goes out of his way to sort out lessons at short notice and will communicate if there are any problems. The fact the Greg gave me the time that he has meant that I was ready to pass in a few months and first time. I would recommend Greg to anyone who wants to learn, the chats we have in the car make it the most enjoyable experience, especially in situations that can be stressful. Thanks Greg top instructor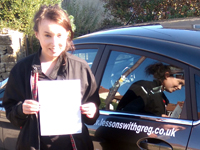 Alice Langdon
First time pass (with me!)
I found you to be a very patient and understanding instructor and helped me understand exactly what I needed to do to pass my test and to become a better driver in the long term. I found it helpful that you would tailor each lesson to the topics and areas which I most wanted to work on, and listened to all of my thoughts and concerns about my progress. This really helped build my confidence in the car and made me feel like I was making the progress I wanted to be making. Again, thank you very much for all of your help.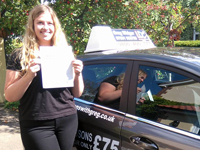 Meg Williams
Nerves conquered!
Nerves had gotten the best of me twice before but thanks to Greg and LDC, I managed to pass my test on the third time. I spent a week with Greg ironing out the imperfections in my driving and working out ways to overcome my nerves. I had a very successful test and would highly recommend Greg and LDC to anyone learning to drive.