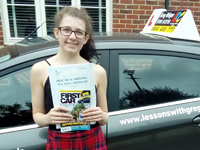 Korah
Nerves beaten!
Before I started learning with Greg I doubted I could pass my test - the test conditions had changed and I had failed previously. However in a few short weeks I gained the knowledge I needed to pass and stay safe on the road. I also managed to combat my bad habits. Thanks again Greg for helping me pass.
Wandi
We did it!!
My lessons with Greg were really fun and relaxing. I hate when people start shouting/screaming so before my first lesson with Greg, I told myself if my instructor started to shout at me while teaching me, I would quit and find another instructor. But Greg was always patient and calm while I was the one who made all the funny noises when I scared myself. LOL. More importantly, we were safe all the time. I think I probably am one of the most memorable/unlucky students Greg has had, as in during my lessons we always encountered some "unusual/exciting road circumstances" ( Cars coming towards us on the wrong side of the road etc. Greg). But whenever I didn't use my brake pedal, Greg always used his in time. I didn't pass first time because I made one silly mistake :P (Find out more stories about those tests, please book a lesson with Greg XD) Greg was really helpful all the time. Helped me to find my problems and fix them. Also moved around his busy schedule to fit my tests in, picked me up at 7am, sometime on Saturday. Really really nice person! PS. Greg is obsessed with car washing. I think he washes it too often. But you can't complain too much while sitting in a super clean car, can you? So if you are looking for a driving instructor who is fun, calm, caring, experienced, and always on time with a shiny car, contact Greg! ASAP! (I have seen Greg's timetable, it is really full!).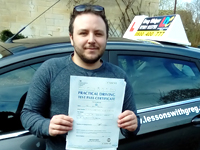 Frank
I didn't think I could do it at first but Greg got me driving and now it's great. He's a nice friendly guy and very easy to get along with. I'd highly recommend him.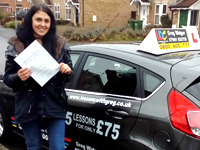 Karen
We did it at last!!
After failing my test 4 times with my previous instructor I found Greg, he went above and beyond to help me with my exam nerves which was my main issue. He was friendly and relaxed throughout our lessons and had so much confidence in me which helped so much. I don't think I would have passed if it hadn't been for Greg, so thank you so much. I am so happy to finally be driving. Karen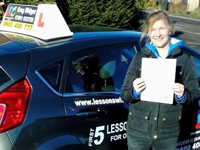 Josie Cerretelli
Second time lucky!
I would like to say a big thank you to Greg from LDC for helping me through my test, having passed today with 4 minors. Such a positive, friendly (and laid back!) instructor who gave up two of his Saturdays to fit me in, having previously failed a couple weeks back with a few silly mistakes. Thank you for helping me out at such short notice (as my previous instructor recently retired) and giving me the encouragement to see me through and pass. I could not praise him enough, very easy to talk to and gives you the confidence you need, if anyone is looking for an instructor, I highly recommend Greg!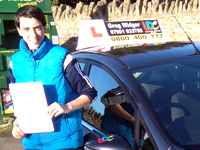 Heidi Westall
Passed first time!
Greg is the most patient and caring instructor I went with. After searching for ages I decided that this was the instructor for me. I had fun whilst learning and the fact that I could plan my own lessons to suit the way that I learnt meant that I could learn a lot faster and in a safe way. Greg goes out of his way to sort out lessons at short notice and will communicate if there are any problems. The fact the Greg gave me the time that he has meant that I was ready to pass in a few months and first time. I would recommend Greg to anyone who wants to learn, the chats we have in the car make it the most enjoyable experience, especially in situations that can be stressful. Thanks Greg top instructor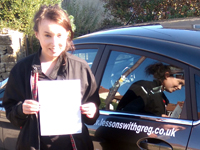 Alice Langdon
First time pass (with me!)
I found you to be a very patient and understanding instructor and helped me understand exactly what I needed to do to pass my test and to become a better driver in the long term. I found it helpful that you would tailor each lesson to the topics and areas which I most wanted to work on, and listened to all of my thoughts and concerns about my progress. This really helped build my confidence in the car and made me feel like I was making the progress I wanted to be making. Again, thank you very much for all of your help.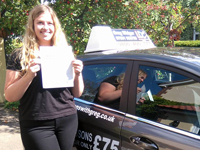 Meg Williams
Nerves conquered!
Nerves had gotten the best of me twice before but thanks to Greg and LDC, I managed to pass my test on the third time. I spent a week with Greg ironing out the imperfections in my driving and working out ways to overcome my nerves. I had a very successful test and would highly recommend Greg and LDC to anyone learning to drive.